This is a sign of gratitude to all engineers who advance progress in science and technology.
Today, October 27, the official opening of the first Engineer monument in Chelyabinsk took place. The Head of KONAR Industrial Group Valery Bondarenko and the company's employees took part in a brief solemn ceremony.
The one and a half meter figure of the Engineer, cast in bronze, was installed on a granite pedestal at the entrance to the main administrative building of the company along Yeniseyskaya street, 8. The project was implemented at the personal expense of the employees of KONAR Industrial Group in honor of the anniversary of Valery Bondarenko, Head of KONAR Industrial Group, and the company's birthday. In October, Industrial Group KONAR turns 31 years old.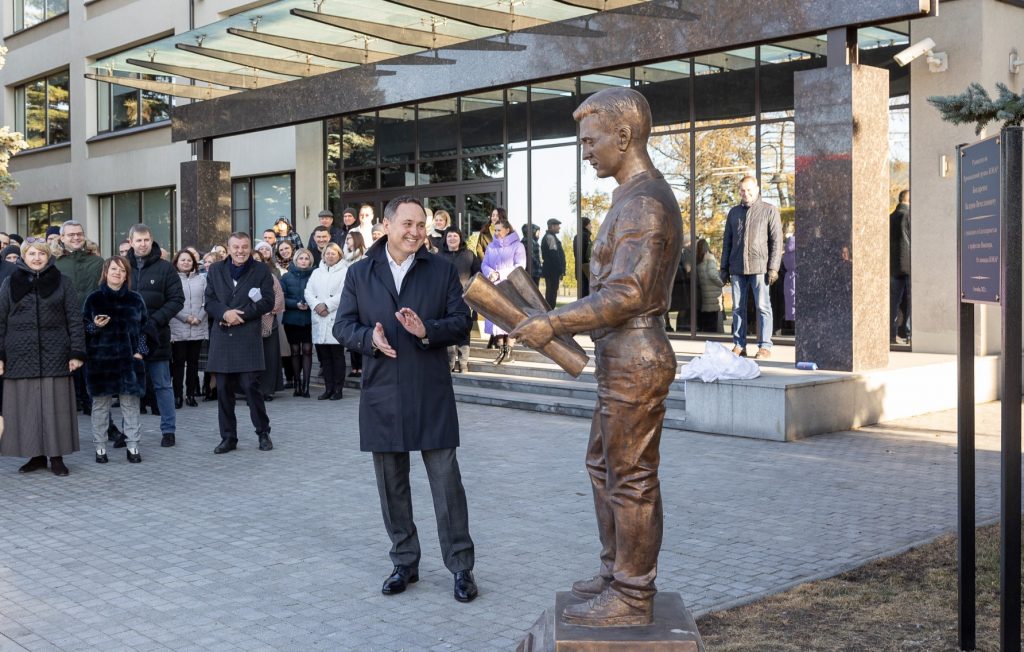 The graduate of the Chelyabinsk Polytechnic Institute, honorary mechanical engineer of the Russian Federation, Valery Bondarenko made major efforts to raise the authority and prestige of the engin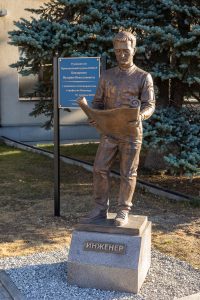 eer profession. He repeatedly underlined the importance of the engineering approach in any field of activity. "Divide the complex into components and assemble it into a great idea, observe and correct, take the initiative, but don't reinvent a wheel," – Bondarenko's philosophy became a guideline for his team.
A new art object was created in the style of a city street sculpture in Kirovka pedestrian street. Employees of KONAR decided that in the city of labor merit, known during the Great Patriotic War under the name Tankograd, there was not enough technical intellectual. The one who thought through and ensured the industrial power of the Southern Urals, and continues to do so now. This is a sign of gratitude not to a specific person, designer or hero of labor, but to all engineers who at any time lead progress in science and technology forward. Their activity may not be noticeable from the outside, but it is important.
– We believe that the Engineer sculpture is very appropriate on the premises of the industrial facility. We want KONAR and our Head to be associated with respect for this profession and, in general, for the engineering approach in any activity, – underlined Evgeny Bodrov, Technical Director of the company.
The composition was created by Chelyabinsk sculptors Maksim Vedernikov and Viktor Markunasov and cast in the architectural and art workshop in Kasli.
– We decided to get away from pathos, excessive pathetics. We made a few sketches. At some point, we came to an understanding: the figure should be as realistic as possible so that people look and recognize their friend, colleague. Although there is no portrait resemblance to anyone, – said Maksim Vedernikov.
Employees of the company say that the Engineer turned out to be thoughtful and expressive, real and close. He is like a good friend who is about to look up from the drawing and greet you. And you will come up to him to shake hands and wish him a good working day.