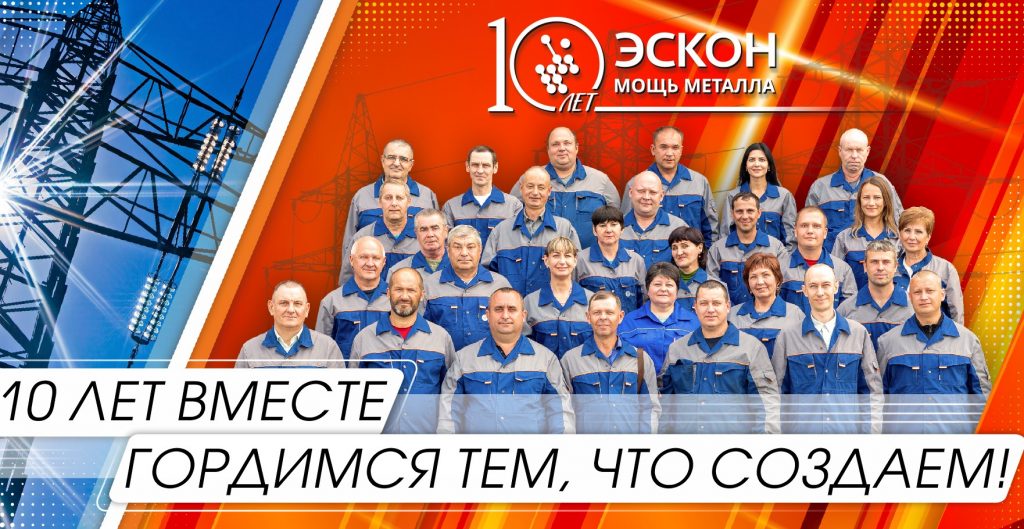 In honor of the holiday, the best employees were awarded certificates and letters of acknowledgment.
Energy-Constructional Structures Plant (ESCON) was established on September 12, 2012 in the city of Yuzhnouralsk, Chelyabinsk Region. The company specializes in the production of metal structures for fuel and energy, transport and infrastructure industries.
In 2015, ESCON became part of KONAR Industrial Group and, together with JVK-Cimolai LLC (Chelyabinsk), represents the Metal Structures Division.
– Over this decade, ESCON has gone through a difficult path of development, and time has proven that you are able to overcome difficulties and solve complex problems perfectly well in difficult conditions. My special gratitude to the "golden team" of the plant – to those who stood at its origins, who have been working since the first days of its establishment. You stubbornly strived to surpass your competitors and make the most of your production advantages, using unique technologies and achieving high quality products, – said Valery Bondarenko, Head of KONAR, in his congratulations.
According to him, in order to be the first in all endeavors, the plant needs to work every day with the highest dedication. "To respond quickly and flexibly to changing situations, new challenges, to see market development trends, to implement advanced management solutions, to be able to negotiate with partners. I am sure that ESCON will make every effort to successfully implement planned projects, because it is in your nature to be leaders", – underlined Bondarenko.
Over the years, the company participated in the implementation of significant projects for the country.
– Properly using modern technological achievements, ESCON is confidently moving along the path of stable growth. The plant has earned and deservedly enjoys the reputation of a reliable partner and system solutions supplier for fuel and energy facilities. Efficient management, job management, high professionalism of employees allow the plant not only to maintain, but also to expand its position in the domestic and foreign markets. ESCON is the only plant in Chelyabinsk region that produces supports for power transmission lines with a voltage of up to 750 kV. Undoubtedly, the locomotive of such a motion is KONAR Industrial Group, which has managed to create at its facility one of the best production facilities in the field of energy constructional structures, – said Pavel Ryzhiy, Minister of Industry, New Technologies and Natural Resources of Chelyabinsk Region.
Metal structures produced by Energy-Constructional Structures Plant are certified and recommended for use at facilities of electric power and oil and gas companies.
– Today we face challenging tasks to renew our business. We have adopted a marketing strategy; we are strengthening the team. The main task is to expand the product portfolio, – said Sergey Kryuchkov, Director of Energy-Constructional Structures Plant LLC.